TrueNAS® Enterprise
TrueNAS Enterprise systems combine the ultimate data protection and efficiency features of OpenZFS with enterprise-class hardware to take the guesswork and worry out of storage and data management. Flexible configuration options, including high availability and all-flash configurations, make it easy to integrate enterprise appliances into any environment.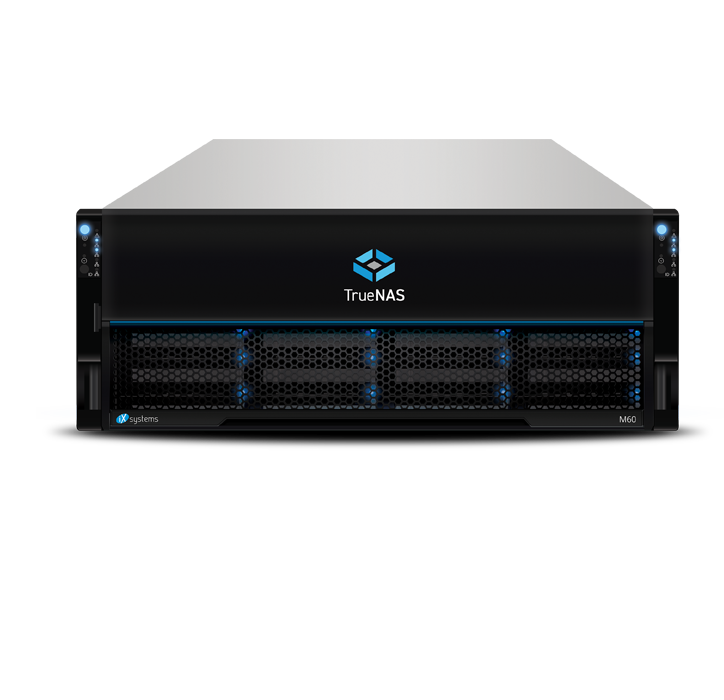 The ultimate data backup and storage optimization
The ultimate in data protection and storage optimizationaTrueNAS Enterprise is built on the powerful OpenZFS file system and has built-in data protection features like copy-on-write and data integrity checks to prevent corruption. Built-in RAID protection, unlimited snapshots, and robust replication protect your data and facilitate recovery even in the event of hardware failure or malware. Storage optimization features such as advanced compression, caching, and thin/thick provisioning maximize storage efficiency.
True memory freedom
Free your data and your budget from proprietary systems and costly vendor lock-ins. With our all-inclusive licensing model, you pay one price for all features, with no hidden fees to drive up costs. TrueNAS is available in flash-only or hybrid disk/flash configurations, can be deployed as both NAS and SAN, and supports block, file, and object protocols.
Flexible and future-proof
Whether you need a compact system for a remote office or a powerful rack-scale solution, there's a TrueNAS Enterprise system to meet your needs. Expand a system from a few terabytes to twenty petabytes with a single head unit. Scalable performance can be tailored to meet the specific needs of your workload or application. Easily integrate TrueNAS into any environment with built-in support for all major hypervisors and cloud backup services. TrueNAS Enterprise is flexible storage that adapts to your ever-changing infrastructure needs.
When downtime is not an option
When your business can't afford to go offline, a TrueNAS system with high availability is your first choice. Full redundancy of all active components and easy maintainability minimize failover time and maximize uptime for mission-critical processes. In the unlikely event that a failover occurs, all services are automatically started on the second controller to ensure uninterrupted access.
Professional support in the USA
Every TrueNAS Enterprise system is fully backed by our dedicated professional support team. Enterprise support services with 24×365 coverage and on-site support options are backed by a global spare parts network to ensure international users receive the same outstanding service.
What hardware to use for TrueNAS Enterprise?
TrueNAS Enterprise can only be purchased in conjunction with TrueNAS M-Series.
All TrueNAS M-Series systems are shipped with TrueNAS Enterprise and are pre-configured.
Did you know that every TrueNAS system is subject to strict quality controls?
Each of our TrueNAS systems goes through a week-long quality test to ensure that your hardware is working properly.
No license fees, no hidden costs!
There are no license fees for TrueNAS Core, SCALE and Enterprise.
Please have a look at our version comparison.