TrueNAS X-Series
The TrueNAS X-Series is our compact 2U enterprise storage system built on the powerful OpenZFS file system for unbeatable value and performance.
Available in hybrid or all-flash configurations, the X-Series integrates easily into any environment. It supports all major block, file and object protocols.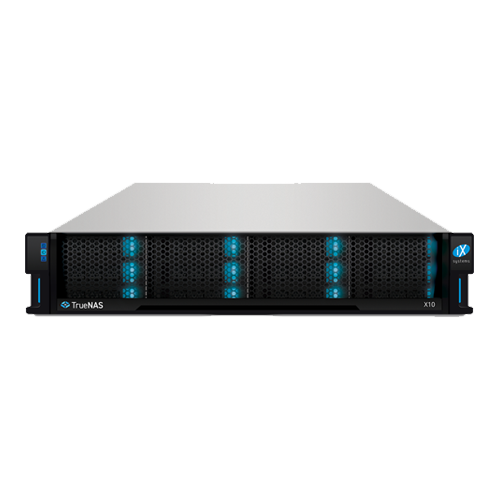 Compact Unified Enterprise Storage
A single TrueNAS X-Series system can support up to 1 petabyte of raw capacity and is over 70% less expensive than AWS and other cloud-based solutions over a five-year period. Powerful enterprise features like ZFS data protection and high availability ensure up to 99.999% availability to keep your business running even when components fail.
Choose from Gold, Silver, or Bronze enterprise support packages with flexible options from extended hardware warranty to 24/7 × 365 support from iXsystems.
Multimedia
The X-Series scales up to 1 PB and simplifies backups with powerful tools to protect data and combat ransomware.
Virtualization
TrueNAS supports all major hypervisors and private cloud environments, including Citrix, VMware and OpenStack.
File-Sharing
Consolidate and share your data on a single platform that supports all standard file protocols.
Backup
TrueNAS easily integrates with Windows, macOS, clusters, and rendering farms to reliably store and process multimedia files.
TrueNAS X-Series in detail
Start building a scalable, hyper-converged virtualization infrastructure with TrueNAS SCALE or use TrueNAS Enterprise for high-performance, ultra-reliable local HA storage. With the lowest total cost of ownership for enterprise storage, you can save over 70% on public cloud storage costs with a self-hosted TrueNAS storage solution.
Contact us for a system design and quote that fits your budget.
Compare TrueNAS® X-Series
| TrueNAS® | X10 | X20 |
| --- | --- | --- |
| Rack Space | 2U | 2U |
| Controllers | Single & Dual | Single & Dual |
| Drive Bays | 12 x 3.5"/2.5" | 12 x 3.5"/2.5" |
| DRAM per Controller | 32 GB | 64 GB |
| Max Ethernet Speed | 2x 10GbE | 2x 40GbE |
| Fibre Channel (option) | 2x 8 Gb | 2x 8 Gb |
| Expansion Shelves Supported | 1 | 2 |
| Expansion Shelves | 1x ES24/F or 2x ES12 | 1x ES60 or 2x ES24/F |
| Max Drives Supported | 36 | 72 |
| Max IOPS | Varies based on configuration | Varies based on configuration |
| Max Throughput | 2 GB/s | 5 GB/s |
| All-Flash | | |
| Max Raw Capacity | 180 TB | 270 TB |
| Max Effective Capacity* | 600 TB | 1 PB |
| Hybrid Storage (HDD + Flash) | | |
| Write Cache | SAS SSD | SAS SSD |
| Max Read Cache | 400 GB SAS SSD | 800 GB SAS SSD |
| Max Raw Capacity | 648 TB | 1.28 PB |
| Max Effective Capacity* | 1.62 PB | 3.2 PB |
| Certifications | Citrix Ready, VMware Ready, Veeam Ready, Asigra Integrated | |
Expansion Shelves (X-Series)